Thursday, November 24, 2005
Happy Thanksgiving
My turkey is in the oven, everything else has been mixed, stuffed and basted and is just waiting for the turkey. Husband has decided to go surfing, Son is still sleeping and Bandit is guarding the kitchen so I feel safe to post a progress picture on my newest WIP.
This is HAED's quick stitch Letting Go after 11 hours. As you can see by the 28 non-petite needle, it's not going to be very large when it's finished. The completed design is 100x59 stitches. I'm stitching it over 1 on 25 count antique white lugana.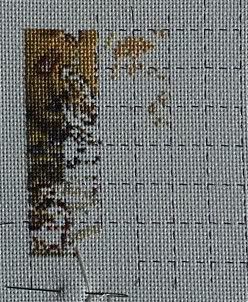 Later this weekend I'll be posting pictures of the RAK and exchanges I've received. Like a boob, I forgot to take photos of the pieces I sent so I cannot share those.